Posted by Dan
On May 10, 2011
0 Comments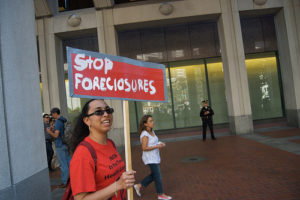 Chapter 13 bankruptcy is a key tool to help you stop forelcosure and keep your home. The moment you file the Chapter 13 bankruptcy, the creditor (and its lawyers) must stop foreclosure and any other collection activity.
So how to save your home? Your Chapter 13 Plan will provide a mechanism to make up past due payments over the life of the plan which is between 3 and 5 years. This way the burden on you in catching up the payments is significantly less than if you tried to do it outside the bankruptcy case.
In Knoxville, one of the biggest issues is whether you can actually make the payments required under your Chapter 13 plan. That issue is often referred to as "feasibility." The bankruptcy code requires the court to find that your Chapter 13 plan is feasible. If the Chapter 13 trustee or a creditor files an Objection to Confirmation of your plan due to feasibility, then the court will make the final determination.
A key determining factor is the amount the homeowner is behind. Another major factor is the amount of other secured debt. In a Chapter 13 plan, in addition to making up back payments, you'll have to pay on-going payments to creditors who have a lien. This is usually the home lender and car lender.
Be sure that you get the advice of an experienced bankruptcy attorney if you are going to attempt to stop the foreclosure of your home using a Chapter 13 bankruptcy. We offer a free consulation to help guide you over this difficult patch in life. Call 865-246-1050 today to meet with an experienced attorney, not a paralegal.