Posted by Dan
On May 11, 2013
0 Comments
drug abuse, recovery courts
The Tennessee legislature recently approved is new budget.  In the budget the legislature set aside $1.56 Million to establish 9 courts that will be designed to combat mental health and substance abuse in Tennessee.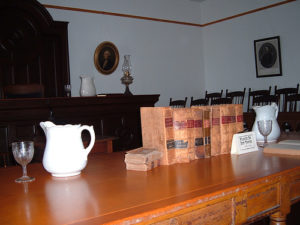 It is expected that the Tennessee Department of Mental Health and Substance Abuse Services (TDMHSAS) will create nine "recovery courts" that will handle much of what the currently being handled by specialized "drug courts, mental health courts, and veteran's courts."  Seems like a pretty tall order.
No doubt Tennessee continues to battle the growing problem involving the abuse of prescription drugs.  Some think that a combining the courts into these "recovery courts" is at least a path to the answer.
In a press release, TDMHSAS Commissioner Douglas Varney said. "We need to focus all of our resources in the most efficient, effective, and collaborative way to maximize our impact on this issue and drug abuse overall. And because so many people who are dealing with a substance abuse issue also have a mental health issue – a situation referred to as a co-occurring disorder – these recovery courts will be able to help them get all the help that they need at one time and in one location."  I hope he's correct.
The location of the new recovery courts has not yet been decided.  However, it's reasonable to believe that the counties that are currently operating drug courts would be good candidates.  This is especially true given the fact the drug court program is voluntary.
Sevier County, Knox County, and Blount County all currently operate their own drug courts.  For a listing of the other counties that operate drug courts please see this listing of drug courts in Tennessee.  Although there are 10 drug courts that are not funded by TDMHSAS, the three counties list above each receive funding from TDMHSAS.
Judge Duane Sloane is a strong advocate for drug courts.  Although the benefits of the drug courts are not limited to finances, it costs far less (about $5,000 per year) than the cost of incarceration which runs upwards of $35,000.  Judge Sloan has said,  "Drug court is a win-win scenario for tax payers and offenders."
Photo Credit:  Gregg Oconnell